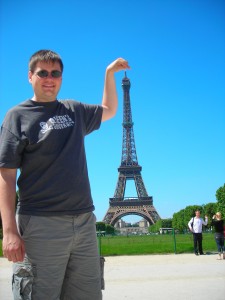 Hello!
First off, welcome to Mash-It-Up! My real name is Jonathan Mash, hence the title. Born and raised near Toronto, I spent over 10 years living in Kingston, Ontario – the proud home of Queen's University. Since then I have moved to Seattle, Washington to take a position building drones at Amazon Prime Air.
I graduated with a Bachelor of Science in Electrical Engineering in June 2009 and have since completed my Master's of Applied Science. My specialty is Power Electronics.
My one and only goal in life is to make a difference in the world. Whether it be small or large, it doesn't matter as long as I tried my best.
I hope to make this blog a record of my personal reflections, stories, and achievements. I will try and keep things updated as I move forward, so please keep checking back.
I hope you find the information on my site useful and informative but, if for some reason you do not, please feel free to let me know! I am always open to suggestions.
Comments/Suggestions? Contact Me!
Cheers,
Jon
"Engineering… where the noble semiskilled laborers execute the vision of those who think and dream. Hello, Oompa-Loompas of science."

– Sheldon, from "The Big Bang Theory"